>> Oracle E-business Implementation

Mshahtech provides global IT solutions and has implemented Oracle RAC, Oracle Ebiz in a banking domain in Libya. Through these implementations Mshahtech has addressed every possible aspect of an ERP from vendor integration to banking integration to customer integration to business re-engineering.Enterprise applications are quite complex by design. This complexity is increased by the enlarged global footprint of today's business entities, with the need to meet a variety of compliance and tax requirements. These enterprises must serve diverse user profiles, and perform the necessary multi-language, multi-currency, multi-country regulatory compliance integration to dozens of applications in order to service specific industry needs. All of these factors are significantly increasing the operational challenges for enterprise IT teams on a continual basis.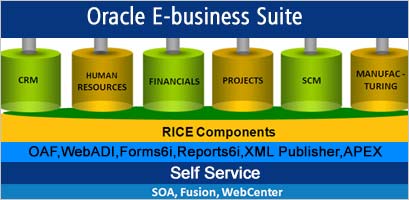 Rapid technology changes, architectural advancements, and feature enrichment's are all being incorporated into newer versions of today's enterprise applications. These upgraded software applications are providing many benefits to enterprises, paving the way for virtual anywhere access and facilitating better collaboration with all stakeholders to extend the enterprise's reach. But more importantly, they are enabling enterprises to design, configure, and administer robust business processes with proactive intelligence for responding to business challenges even faster and more securely than ever before.
To meet all of these challenges, IT organizations realize that their key enterprise applications must be upgraded regularly in order to benefit from the latest application and technical stack enhancements and to maintain basic support ability. For example, in the Oracle E-Business Suite (EBS) domain, the significant enhancements from the early release 10.7 to the current release 12 promise many significant productivity benefits to enterprises that upgrade to the newer version.
Oracle E-Business Suite 12.1 provides organizations of all sizes, across all industries and regions with a global business foundation that reduces costs and increases productivity through a portfolio of rapid value solutions, integrated business processes and industry-focused solutions.
A customer can achieve with the latest release of Oracle E-Business Suite
Invest in ways to standardize and simplify with integrated business processes that reduce cost and minimize complexity.
Strengthen competitive position with purpose-built industry solutions that drive greater value across the enterprise.
Achieve rapid value today with standalone solutions that are complementary to an existing 11i or Release 12 environment.
The Benefits for a customer with Oracle E-Business Suite.
The most convertible universal business platform
Operate globally while following locally.
Support your global operations 24/7.
Continue global business processes with Oracle Application Integration Architecture.
The most complete, integrated business intelligence portfolio
Achieve an end-to-end view across all your lines of business.
Provide every employee with relevant, complete information tailored to their role.
Drive performance with consistent financial and operational information.
The most customer-focused applications strategy
Protect the value of your existing investment.
Extending the value of your applications.
Evolving you to the next generation.
Benefits
Oracle Focused: As an Organization, Mshahtech has since inception focused on providing Oracle outstanding Solutions to its customers using Oracle tools and technology
Experienced Subject Matter Experts:
Our expertise team of Subjected to a Matter Experts having rich experience in various industry segments and consistently delivers the solution that is precise for the client's needs.
Project Management:
With affluent experience in handling large-scale projects (Multi-organizational, multi-location implementations) using Oracle's AIM Methodology, ensure timely completion of projects within allocated budget.